Golf Club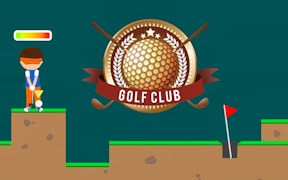 Golf Club
Unleash your inner Tiger Woods as you delve into the fast-paced, thrilling world of Golf Club, a premier title sitting at the zenith of golf games, ball games, and skill games. Golf Club offers an exhilarating journey stretching across 30 meticulously designed levels that will test your precision, patience, and passion.
The objective of this game is simplicity itself: Get the ball to the hole. But don't let this seemingly straightforward directive fool you. Golf Club is no walk in the park. It demands dexterity, strategy and a sharp eye. One must deftly maneuver their way around challenging obstacles and across tricky terrains to reach their goal in one clean shot.
Each level unfolds like an intriguing plot line in a suspense novel. You're the protagonist armed with nothing but a golf club and limitless willpower to steer that tiny, stubborn white sphere into victory's lap. The thrill of anticipating that ultimate decisive millisecond when the ball teeters at the edge before finally plummeting down the hole cannot be overstated.
Golf Club achieves an extraordinary balance between being easy to grasp yet challenging to master. It's both demanding for seasoned golf enthusiasts while also welcoming beginners who are new to this genre of sport games.
Moreover, its crisp graphics, realistic sound effects and intuitive interface amplify the overall gaming experience, transporting players right onto a lush green fairway under a deep azure sky.
To sum it up: Golf Club is more than just another entry in an already crowded genre of golf games. It's an immersive experience that demands skillful strategizing and pony amounts of patience while offering ample fun in return. If you're in search of a game that successfully merges virtual sport with real-life excitement, look no further – Golf Club is your hole-in-one!
What are the best online games?