Golf and Biliard for Kids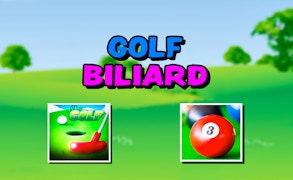 Golf and Biliard for Kids
Description
Golf and Biliard for Kids is an engaging game that combines two classic sports into one exciting gameplay experience. This kid-friendly game provides the perfect opportunity for children to test their precision and strategy. Whether on the golf green or the pool table, players can immerse themselves in a world of sporting challenge and fun.
How to Play
To play, choose between a round of golf or a game of billiards. For golf, drag your finger across the screen to set direction and power, then release to swing. With billiards, aim your cue using directional arrows and adjust power with the slider, then hit the shoot button to take your shot.
Tips and Tricks
For both games, take note of the game physics. Understanding how force corresponds with movement is crucial for success. Pay attention to how balls behave on impact and how power influences distance covered. Always aim for precision over power.
Features
Dual Game Modes: Play either golf or billiards depending on your mood.
Kid-Friendly Interface: Simple controls make it easy for even young kids to play.
Physics-Based Gameplay: Learn real-world physics as you hone your skills.
Solo Play Mode: Practice alone to perfect your strategies before challenging others.
What are the best online games?
Tags