Gold Rush - Treasure Hunt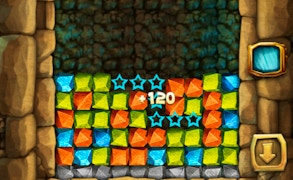 Gold Rush - Treasure Hunt
Immerse yourself in a glittering world of gems and gold with Gold Rush - Treasure Hunt, a striking masterpiece among match 3 games. As engrossing as it is dazzling, this game transcends the common boundaries of typical jewel games, thrusting you into a thrilling mining adventure at the heart of a golden mountain.
At first glance, Gold Rush - Treasure Hunt might seem like just another one of those match 3 games. But play once, and you'll see it's so much more. The objective is simple: tap on groups of three or more blocks of the same color, and watch them vanish like fog under a morning sun. Every successful match racks up points, each one bringing you closer to your ultimate goal: unearthing three gold nuggets to advance to the next level. This adds an extra layer of strategy that makes Gold Rush - Treasure Hunt standout in the crowded field of jewel games.
But beware! This isn't a leisurely stroll through gem-studded caverns; it's a race against time as you fend off an encroaching ceiling that creeps down with every second. Let it touch the top of your screen, and you're done for! This blend of tension and strategy makes this Mining Game one uber-fun roller coaster ride.
The lively animation brings these golden nuggets to life, giving you the sensation of actually being inside those tricky mine shafts. The gameplay is spiced with riveting sound effects that make every crushed gem feel oh-so-realistic! This grand spectacle elevates Gold Rush - Treasure Hunt to more than just another one among Mining Games; it's making its claim as a must-try for any gaming enthusiast.
In short, Gold Rush - Treasure Hunt is an addictive fusion of tension-filled gameplay and dazzling graphics that pushes the boundaries of what we expect from match 3 games. Strap on your miner's helmet, descend into these golden caverns, and let yourself get caught up in this high-octane treasure hunting adventure.
What are the best online games?