Gold Rush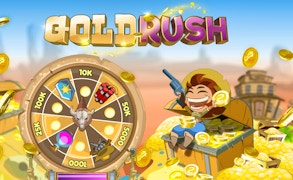 Gold Rush
Welcome to a whole new experience in the realm of arcade games, where you get to live out your most extravagant fantasies of wealth creation and kingdom building. As we delve into one of the most intriguing money games the industry has ever seen, 'Gold Rush' gets your adrenaline pumping with its superior gameplay mechanisms that seamlessly blend aspects of mining games, tycoon games, and casino games.
The premise of Gold Rush is exhilarating. As an opportunistic adventurer, you're traveling the world, embellishing it with magnificent constructions while simultaneously defending them from intruders hell-bent on looting your precious gold reserves. Your journey in this enchanting world is one riddled with strategic manoeuvres, a test of your wit in playing off enemies while masterfully managing your wealth.
The game mechanics are beautifully integrated and richly detailed; Gold Rush takes you beyond mere arcade entertainment into an engaging world where every decision could lead to unprecedented wealth or a crippling downfall. It provides an ideal platform for those looking for great building games. But it goes beyond simple construction; it's about defending your hard-earned empire.
To ensure the grandeur of your empire surges, you have options to invest in defenses by buying shields or employing workers to fuel your gold production while offline. This strategic element adds depth, making it more than just mindless clicking or tapping but thoughtful planning and strategy implementation.
So embark on this thrilling venture! Experience the heady rush and excitement that comes with digging for gold, building splendid infrastructures, and fighting off adversaries all in one place - the dazzling world of Gold Rush. It's not just a game; it's a captivating saga of ambition, strategy, and loads of fun!
What are the best online games?