Gold Miner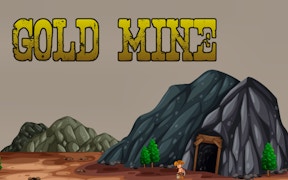 Gold Miner
Even though the mining craze in video games may be over, they still make for interesting and enjoyable titles like Gold Miner. This 2D cartoon game reminds us how often we've thought about striking it rich. Unfortunately, unless you have some very favorable circumstances or are just incredibly lucky, getting rich is never as easy as digging into the ground and finding a treasure trove of… well, treasure. Even though it's digital, it can still feel satisfying to use a variety of tools and timing to make sure that you pull up as much as you can carry in hopes of retiring early.
About Gold Miner
The true reality of mining is much more difficult and harsh than games make it seem (although you could argue that some games make it look even more harsh). This is a game that takes a lighter and easier look at one of the most challenging and dangerous careers out there. It also gives you a chance to try out some decently reliable and very effective gear and items that can make things even easier for you. This is a very relaxed introduction to the world of mining and there's some fun to be had while playing through the levels.
How to Play
Gold Miner is a 2D mining game that you play with the mouse and keyboard. The keys are used for actions while the mouse is used for menu navigation.
Controls
Up Arrow - Use Dynamite
Down Arrow - Use Crane
Mouse Cursor - Navigate Shop
Left Mouse Button - Buy Item
The goal of each level is to have a certain amount of money after the timer runs out. You earn money by using the crane to pull up gold, diamonds, and even rocks. The miner is at the center at the top of the screen with the crane claw swinging back and forth. You need to use the angel of the swings to determine its trajectory when you activate it. This will cause the claw to launch in a straight line until it grabs something or hits the edge of the screen.

No matter what the claw grabs, the bigger something is, the longer it will take to bring back to the miner. It's worth it when it's a large gold nugget, but less so when it's a large rock. You'll also encounter small animals that will move around and get in the way of your claw. Thankfully, there are items to help you out. Dynamite can destroy large objects instantly to free your claw. In between levels you can buy other items from the Shop, such as a Rock Collector's Guide to improve the value of rocks, Diamond Polish to improve diamond value, and Lucky Clovers to raise the quality of loot you find in Mystery Bags.
Tips and Tricks
This is a very low-maintenance game and it doesn't take very long to amass a huge hoard of cash you should take every opportunity to spend it at the Shop. As long as you have more money than the level requests, you don't need to worry about mining the ground clean.

Game Details
Developer: Game Rival
Platforms: Web Browser (PC and mobile), iOS, and Android
Languages: English
Gameplay Footage
FAQs
Does Gold Miner have an ending?
While it may look simple, the game will keep going to new levels and raising the amount of gold you need to earn. If you don't earn that amount, the game ends.
Games similar to Gold Miner
This is an older game with a familiar feel that fits into both the Arcade and Clicker Games categories on GamePix. There's also Car Crusher, Square Bird, Hit the Target, and My Sugar Factory.
What are the best online games?