Going up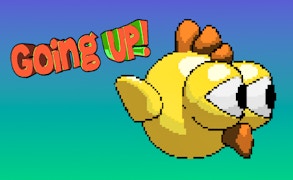 Going up
Description
In Going Up, your mission is to guide a solitary bird on its journey home. This challenging, pixelated arcade game places you in an environment filled with obstacles and collectible coins. Maneuver the bird, dodging obstacles along the way and collecting coins to unlock additional features like new skins.
How To Play
The game mechanics are super intuitive making it easy even for beginners. Just tap the screen or use a left mouse click to make the bird fly upwards. Carefully time your taps to avoid any hindrances and capture as many coins as possible.
Tips and Tricks
Avoid rushing in this game, take a leap of faith only when the opportunity arises. Remember, timing your taps is crucial not just for avoiding obstacles but also for gathering coins. Also, keep an eye out for special bonus coins!
Features
Pixeleted Graphics: Retro-style, pixelated graphics that provides a throwback gaming experience.
Simple Controls: Easy touch or click-based controls that are accessible for gamers of all levels.
In-Game Unlockables: Gather coins to unlock stylish new skins for your bird.
Addictively Fun: It is easy to pick up but getting a high score can be challenging - making it a fun addicting play!
What are the best online games?