Girls Winter Fashion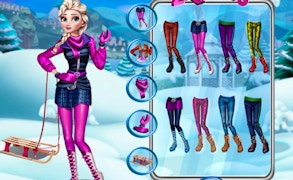 Girls Winter Fashion
Welcome to the winter wonderland of Girls Winter Fashion, an enchanting experience among kids' games, especially crafted for girls who have a flair for fashion, passion for princesses, and a love for the holiday season.
In this magical, interactive game full of frosted scenery and delightful characters, the realm of Arendelle beckons you on a thrilling ski adventure. This isn't just any dress-up game; it's a world of imagination that combines elements of fashion games, Christmas games and even Princess Games.
The plotline revolves around three beautiful princesses who are all set to hit the slopes in style. The prelude involves a charming planning session where players can assist the adorable aristocrats in selecting their chicest ski outfits before they embark on their exhilarating winter journey. This is where the fashionista in you will truly shine. Redefine style as you choose dazzling ski costumes, trendy hats and gloves from an impressive collection, in true spirit of dress up games.
As part of this riveting winter escapade, Girls Winter Fashion enables young players to not just explore their creative acumen but also enhance their decision-making skills. The game seamlessly marries elements of fantasy with everyday decisions akin to our favorite Princess Games. Our modern princesses are stylish, playful and full of charisma – it's hard not to love them!
The captivating blend of seasonal cheer with delightful dress-up elements makes this game an unmissable treat among children's Christmas Games. The vibrant visuals are sure to captivate players while immersing them in a snowy paradise they would not want to leave!
Undeniably, Girls Winter Fashion leads the pack when it comes to engaging and entertaining Games for Girls. It's more than just a game - it's a snowy adventure that brings out the stylist within your child while sprinkling some festive joy along the way! So grab your virtual skis and get set for a memorable ride down Arendelle's scenic slopes.
What are the best online games?