Girls Pijama Party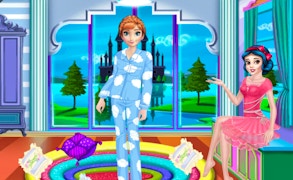 Girls Pijama Party
Immerse yourself in a world of frivolity and laughter as you step into the latest gaming sensation, Girls Pijama Party. Designed carefully considering the preferences of young gamers, and perfectly aligned with tags like Games for Girls, Princess Games, and Dress Up Games, this game is a sure shot winner in the kids gaming arena.
In Girls Pijama Party, you're invited to an exciting sleepover with our bubbly hosts. This isn't just any ordinary sleepover; it's a game that encourages creativity. You're not just at the party; you're an integral part of it! Your mission, should you choose to accept it, is to help our girls find the most dazzling pajamas for their big night. So roll up your sleeves, and let your style intuition shine!
The freedom to choose from several outfits ensures that each player can fully express herself. The personalized dressing experience along with the satisfaction of seeing your fashion choices on these animated characters gives you a sense of achievement. The hunt for the perfect pijama is not only fun but allows children to explore their creativity and styling skills. It's like being a virtual fashion consultant!
Girls Pijama Party does an excellent job of keeping the gameplay light-hearted yet engaging. It has found its niche among games for girls, especially those who have a penchant for princess games. Plus, who can resist the allure of dress-up games? With easy-to-navigate controls and delightful visuals, it offers endless enjoyment for children.
In essence, Girls Pijama Party is not just a game; it's an experience—a sweet escape into a world of gleaming tiaras and twirling skirts—a stepping stone into understanding fashion choices better—a platform where creativity meets fun! If your child enjoys playful games that spark creativity, then this dress-up extravaganza cannot be missed!
What are the best online games?