Gin Rummy Plus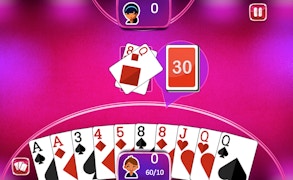 Gin Rummy Plus
Dive into the riveting world of classic card games with Gin Rummy Plus, a thrilling gaming experience that redefines 2 player games and takes family games to a whole new level. This game goes above and beyond, delivering more than just a digital version of the timeless pastime of gin rummy.
Gin Rummy Plus is a captivating blend of strategy, skill, and a splash of luck; keeping both hardcore gamers and casual players on the edge of their seats. The rules are easy to grasp for newbies but also hold depth and complexity that will challenge seasoned veterans. Whether you're playing with a friend or bonding with family over a competitive match, this two-player game is bound to keep you engaged.
The charm of Gin Rummy Plus lies not only in its simplicity but also in its potential for strategy. It's not all about luck; your decisions matter as much as the cards you're dealt with. The thrill of pulling off a successful gamble, the joy when your strategy unfolds perfectly, will have you coming back for more.
The game brings people together, fostering friendly competition and creating happy memories—an ideal choice for family games night. It's not just about winning or losing; it's about the interactive experience, the joyous rivalry, and most importantly - the quality time spent with loved ones.
In conclusion, if you're looking for a game that combines simplicity, strategy, competition, and camaraderie—Gin Rummy Plus is an excellent choice. So come on over to the world of Gin Rummy Plus—where cards meet charisma! Dive into this perfect blend of 2 player games and family games.
What are the best online games?