Ghost Knight Rider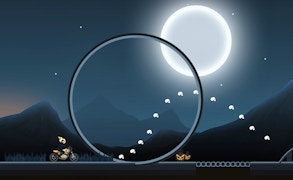 Ghost Knight Rider
Rev your engines, gaming aficionados! The virtual world of racing games is shifting up a gear with the advent of Ghost Knight Rider. This adrenaline-pumping game perfectly combines elements of motorcycle games, dirt bike games, monster games and driving games into one sizzling package that is set to keep your fingers gripping your devices for hours on end.
The first thing that captivates you about Ghost Knight Rider is its highly addictive racing gameplay. The exhilarating speed, the sharp turns, and the heart-racing action ensure that this isn't just another addition to the vast array of motorcycle or dirt bike games. Instead, it carves out a niche of its own in the competitive landscape of driving games. From being an audacious dirt rider on challenging terrains to transforming into a menacing ghost knight conquering eerie landscapes - this game has it all.
A distinctive feature that sets Ghost Knight Rider apart is its atmospheric themes - Night Ghost and Silent Hill. As a player, you get to experience adrenaline-packed motorcycle races under the cover of darkness in Night Ghost or traverse through Silent Hill's hauntingly beautiful landscapes. These immersive themes plunge you into an extraordinary gaming experience that leaves you both thrilled and terrified.
Further enhancing its appeal are the three uniquely designed bikes each boasting their own exclusive features. Whether it's about storming through rocky landscapes or speeding past ghostly apparitions, there's a bike designed specifically for each thrilling situation.
All said and done; Ghost Knight Rider is not just another title in the realm of motorcycle or driving games; it's a game-changer – an exhilarating escape that will change the way you look at motorcycle, dirt bike, and monster games. So buckle up gamers; it's time to embrace the ghostly aura and hit those tricky tracks!
What are the best online games?