Get Lucky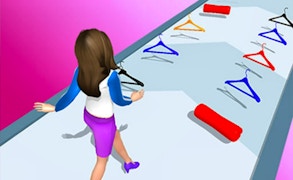 Get Lucky
Immerse yourself into a vibrant and whimsical world with Get Lucky, an innovative entry in the realm of arcade running games. As an alternative to your typical adrenaline-fuelled, survival-oriented running games, Get Lucky introduces an intriguing twist - a charming 3D girl protagonist, a swimming pool setting, and an appealing objective centered around collecting coat hangers and playing dress up.
This game perfectly blends the thrill of running games with the creativity and fun of dress up games, thus offering a unique experience that makes it one of the best games for girls. Here's how it works: you start off by controlling your character, aiming to fill up the bar on the left side by snagging as many colorful coat hangers as you can. The challenge? You need to simultaneously dodge those pesky red blankets that threaten to slow down your progress.
The moment you begin collecting coat hangers, you'll unlock access to change and take off your current clothes. This feature beautifully incorporates elements from popular dress up games, adding depth and variety to gameplay. The key is to remain calm, focussed, and quick on your feet - traits characteristic of seasoned players of running games.
A quick word about its design: Get Lucky showcases vibrant colors and pleasing visuals that are easy on the eyes. Yet it manages to create enough tension through its gameplay mechanics for it to feel like a typical arcade game. It's these smart design choices that make Get Lucky stand out among other running or dress up games.
In short, Get Lucky brings together the thrill of arcade-style gaming with casual elements like dressing up, all beautifully tied within a quirky love story set by a swimming pool. If you're on the lookout for unique games for girls, this one certainly deserves your attention.
What are the best online games?