Geometry Jump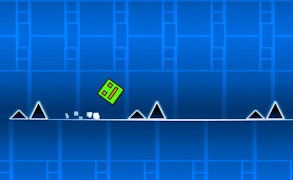 Geometry Jump
Get ready to leap into the mesmerizing world of Geometry Jump, a top-tier contender in the space of arcade, survival, skill, and tap games. This radiant gem blends the frantic energy of classic arcade titles with the suspenseful dynamics of survival games, making it an irresistible lure for both casual players and hardcore gamers alike.
Breathtaking in its simplicity yet punishingly challenging, Geometry Jump's concept is a triumphant exhibit of the clicker games genre. You get to commandeer your favorite characters through an electrifying gauntlet of geometric shapes and insurmountable obstacles. Each tap on your screen is a calculated jump - a thrilling leap of faith into the unknown.
The levels are meticulously crafted to test your mettle, and their toughness is no shortcoming but a tantalizing promise of unending adventure. Despite countless failed attempts, you'll find yourself repeatedly coming back for more – a testament to the addictive allure that all remarkable skill games must wield.
The sublime selection in "Geometry Jump" not only taps into our primal love for platform jumping games but also catapults it into modern gaming consciousness. With each stage ingeniously designed to be harder than its predecessor, every tap requires tactical thought and pixel-perfect timing.
In conclusion, for those seeking an adrenaline-laced experience that marries the nostalgic rush of arcade classics with modern challenge-based gameplay mechanics, there are few better choices than Geometry Jump. So why wait? Harness your skills, tap into your instincts, and dive headfirst into this mesmerizing vortex of vibrant geometrical chaos that is guaranteed to keep you on your toes at all times!
What are the best online games?