Galaxy Challenge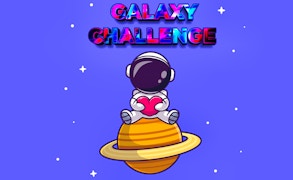 Galaxy Challenge
Description
In Galaxy Challenge, you're propelled into an exciting cosmic adventure. As a fun and engaging platformer game, journey across the stars, gathering coins and power-ups to enhance your galactic escapade. With its captivating gameplay and online leaderboard, this game is designed to keep you hooked for hours, challenging players across the globe.
How to play
In Galaxy Challenge the controls are surprisingly simple: tap or click to navigate your character through dazzling space landscapes. The goal is to collect as many coins and upgrades as possible while avoiding obstacles. Play smartly and aim for a high score to climb up the global leaderboard!
Tips and Tricks
Timing is essential in Galaxy Challenge, mastering it can help avoid obstacles effectively. Collecting power-ups can provide temporary advantages that will help boost your score. Lastly, don't rush! Patience often leads to better results.
Features
Addictive Gameplay: Easy to learn yet hard to master.
Globally Competitive: Climb up the leaderboard by aiming for a high score.
Diverse Upgrades: Collect upgrades that enhance gameplay.
Mesmerizing Visuals: Experience captivating cosmic visuals.
What are the best online games?