Funny Throat Surgery 2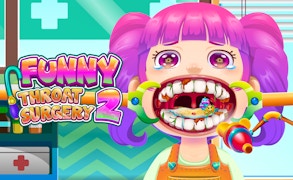 Funny Throat Surgery 2
Description
In Funny Throat Surgery 2, you'll step into a fun and festive dentist office where an adorable patient needs your medical expertise. With gameplay that simulates real-life dental procedures, you'll be entrusted with cleaning her teeth, performing polyp surgery, and even removing germs from her mouth. Once she's healthy, enjoy dressing her up in cute and playful outfits.
How to Play
The game is easy to play for little girls wanting to become dentists. Use your mouse to follow the on-screen instructions. First, you'll clean the teeth, then perform surgery, and finally choose her dress-up outfit. A fun sequence for each case promotes continual progress in the game.
Tips and Tricks
Pay close attention to the stage-wise instructions for a successful operation. Don't rush through any steps as careful work will yield better results. In the end, exercise your creative side by dressing up your patient in fun costumes.
Features
Teaches kids about dental health through immersive gameplay.
Mouth surgery simulation blended with fun dress-up mechanics.
Cute graphics and thematically appropriate sound effects enhance playability.
Friendly user interface designed specifically for younger players.
What are the best online games?