Funny Cooking Camp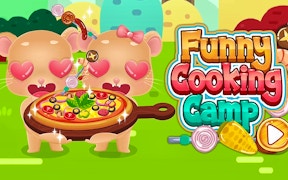 Funny Cooking Camp
Description
Immerse yourself in the whimsical world of Funny Cooking Camp, a delightful camping adventure for our little mouse friends. Your primary role is to support and guide these furry friends in building their dream clay oven and gathering ingredients for a scrumptious grilled feast. From crafting mouth-watering pizzas to tantalizing BBQ satays, elevate your culinary skills while experiencing the joy of camping.
How to Play
This game is played primarily through click interactions. Construct the clay oven by picking up the necessary materials and clicking on designated spots. Follow similar steps to gather ingredients for your grill; pick them up and place them on the grill. Monitor the cooking process to avoid overcooking. Progress in the game by completing each meal preparation successfully.
Tips and Tricks
Your timing needs to be perfect! To avoid burning your meals, keep an eye on the cooking meter. Don't forget, quicker completion of tasks equates to more points. Also, make efficient use of collected resources, as each ingredient contributes significantly towards your final score.
Features
User-friendly controls: Simplified click interactions accommodating even young children's gaming skill levels.
Creative gameplay: Combines elements of cooking with a camping adventure theme.
Strategic element: Efficient resource management affects scoring positively.
What are the best online games?