Froggy Man 2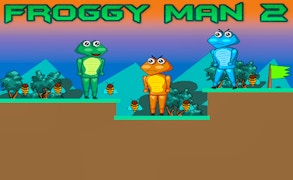 Froggy Man 2
Description
Step into the exciting world of Froggy Man 2, a captivating 2D platformer. Embrace your adventurous side as you navigate through tricky terrain, playing as a vibrant green frog on a mission to collect all the flies and reach the safety of the green flag. You'll be challenged to dodge dangerous obstacles like orange and blue frogs, bullets, saws, and spikes. With each level, anticipate an increase in difficulty that enhances your gaming experience.
How to Play
Mastering the controls for Froggy Man 2 is straightforward. You can control your character's movement using either the "WASD" keys or the "Arrow" keys. To make your frog leap over hazards or reach high platforms, simply press the "W" or "Up" arrow key twice for a high-impact double jump.
Tips and Tricks
Precision is key when navigating through Froggy Man 2's challenging terrains. Timing your jumps accurately with the aid of double jumps can help dodge hazards more effectively. Keep an eye out for patterns in enemy behaviors for easier evasion and focus on collecting all flies before making it to the flag.
Features
Captivating 2D platformer design.
Intricately designed gameplay with increasing difficulty levels.
Comes with easily mastered controls for seamless navigation.
A variety of challenges and obstacles to heighten gaming thrill.
This is part of renowned "Froggy Man" series which guarantees quality gameplay.
What are the best online games?