Froggy Man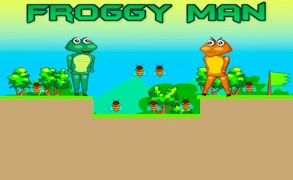 Froggy Man
Description
In Froggy Man, you embark on a thrilling adventure as a brave green frog, leaping through a vibrant 2D world. Your mission is to gobble up all the juicy flies, while dodging dangerous orange frogs, sharp saws, and menacing spikes. The journey unfolds over eight challenging levels, and with each level, the difficulty escalates.
How to play
Navigate your amphibian avatar using the "WASD" or "Arrow" keys. Take advantage of your frog's ability to pull off spectacular double jumps with a swift double-tap of the "W" or "Up" arrow key. Make it to the green flag at the end of each level to leap forward to exciting new challenges.
Tips and Tricks
Mastering double jumps is crucial for evading hazards and collecting all the flies. Stay alert for sudden appearance of orange frogs, saws and spikes. Strategize your route and timing as you progress through levels in order to minimize risk.
Features
Cute anime-style graphics that create an engaging platformer experience.
Innovative level design that increases in complexity and challenge.
The game is intuitive, engaging, and suitable for players of all ages.
A range of adversaries from dangerous orange frogs to deadly inanimate obstacles.
What are the best online games?