Friday Night Funkin Music Notes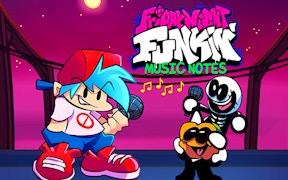 Friday Night Funkin Music Notes
Immerse yourself in the dynamic world of Friday Night Funkin Music Notes, a vibrant amalgamation of pure, addictive fun and mind-boggling challenges. This free online game optimally synthesizes two beloved gaming genres- music games and hidden object games, delivering an interactive experience that keeps both kids and adults hooked for hours at a stretch.
In this mesmerizing journey, you'll find yourself solving complicated puzzles while discovering hidden music notes scattered throughout a series of intricate images. Each level offers 10 hidden notes that require your keen observation skills to uncover. The game is spread across 8 fascinating levels, all dripping with colorful graphics and toe-tapping background music.
Every second counts in Friday Night Funkin Music Notes, as the sands of time slip through the hourglass relentlessly. You cannot afford to be lax, for every misplaced click costs you an additional 5 seconds. Consider each move carefully before executing; this game is designed not just for entertainment, but to also sharpen your decision-making skills and eye for detail.
The most enticing aspect of this game is its accessibility - it requires no download and is one of the top choices when it comes to Games for Kids. The game mechanically combines elements from music and puzzle games, creating an enriched gaming landscape that stimulates intellect while ensuring non-stop enjoyment.
If you're on the hunt for an adventure that's filled with pulsating rhythms and tantalizing mysteries, Friday Night Funkin Music Notes is just up your alley. So why wait? Take the plunge into this enchanting world - it's time to test your wits and have some fun!
What are the best online games?