Free City Drive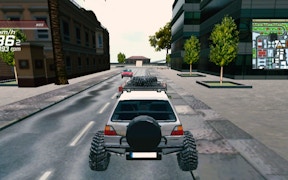 Free City Drive
Rev up your excitement and prepare to take your driving skills on a thrilling ride with Free City Drive, the latest entrant in car games that guarantees to keep you glued to your screens. This car simulator game offers an unparalleled experience, seamlessly merging the thrill of racing with the freedom of open-world exploration.
Unlike other mainstream driving games, Free City Drive stands its ground by offering a vast array of customizable vehicles - a feature car aficionados are bound to applaud. Whether you have an insatiable appetite for sleek sports cars or have a soft spot for mighty trucks, this game covers it all, making it count within both car and truck games.
Craftsmanship is apparent in the city environment design- an engaging backdrop that adds an extra layer of depth to your adventures. Whether you're trying to maneuver through busy city streets during rush hour or simply drifting around corners under the illumination of city lights, Free City Drive truly encapsulates the essence of drifting games.
The intuitive controls add to your immersive experience, ensuring you enjoy every moment without having to worry about complicated gameplay mechanics. The cherry on top is the ultra-realistic feel it brings it into play, making it one of the best options for fans seeking authentic simulator games.
In summary, Free City Drive aligns perfectly with its name - providing a free city environment for players to drive through and enjoy. Traversing between lanes in this exhilarating car simulator ensures an adrenaline rush like never before! So buckle up gamers, as this delightful blend of racing, drifting, and simulation is sure worth taking for a spin.
What are the best online games?