FrancyCrazy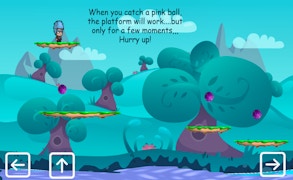 FrancyCrazy
Welcome to the riotous world of FrancyCrazy, an addictive arcade platformer skill-game that will challenge your gaming prowess.
FrancyCrazy is a standout in the overcrowded arcade genre, stitching together classic platformer mechanics with a fresh, eye-popping aesthetic that isn't afraid to let its freak flag fly. It's a high-skill game that's as challenging as it is charming.
The gameplay in FrancyCrazy revolves around navigating your character, Francy, through a variety of zany environments filled with unpredictable pitfalls and obstacles. You need lighting-fast reflexes and precision timing to leap, duck, and dodge your way to the end of each level.
The controls are flawlessly responsive and intuitive, making every near-miss and triumphant leap feel completely under your control. The game truly shines in its gameplay; it's a platformer that requires agile thinking and quick reactions.
On top of stunning visuals, FrancyCrazy boasts an electrifying soundscape as wild as the action on screen. There's a heart-pounding moment to match every beat of the fast-paced music that keeps you pumped up throughout your journey.
If you're looking for an arcade game with loads of personality and challenging gameplay, then FrancyCrazy is worth diving into headfirst. It's addictive enough to hook even casual players but offers enough layers for seasoned gamers to sink their teeth into.
In conclusion, FrancyCrazy serves up a frantic mix of challenge and charm that makes it one of the most exciting titles in the current platformer skill-games genre. Whether you are a die-hard fan or someone looking for a challenging, fun and unique game experience, FrancyCrazy is a must-play!
What are the best online games?