For An Apple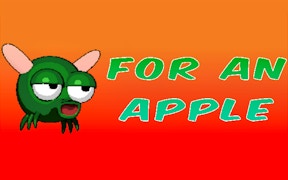 For An Apple
Immerse yourself in the vibrant and pixelated world of For An Apple, a refreshingly appealing classic arcade game. As one of the premier flying games that captivates with its creative gameplay, this game is a standout in the realm of animal games. Whether you're an ardent gamer or a casual player, this addictive game guarantees hours of relentless fun.
In For An Apple, you are charged with helming a swift fly, in its relentless pursuit for apples. Your dexterity is put to the test as you deftly maneuver past obstacles and aim to consume as many apples as possible. Each collected apple equates to points earned, encouraging players to hone their precision and focus. The pixelated aesthetics serve as a nostalgic throwback, reaffirming its place in the lineup of celebrated pixel games.
Apart from flawless flight mechanics, For An Apple also excels in terms of its easy-to-understand controls and intuitive interface. The charm lies in its simplicity – there's no complex narrative or convoluted game mechanics to navigate; just pure, unadulterated fun of eating apples while avoiding hurdles.
To clear any level successfully requires brilliant timing and incisive decision-making skills - a true testament to any skilled gamer's reflexes. Such engaging elements make it stand head-and-shoulders above other flying games . Steer yourself headlong into this exhilarating escapade and savor every thrilling moment as you fly high on this arcade wonder.
If you're on the hunt for new animal adventures or a fan of pixelized gaming pleasure, give For An Apple a shot. It's time to spread your wings and weave through the apple-studded skies!
What are the best online games?