Football Jump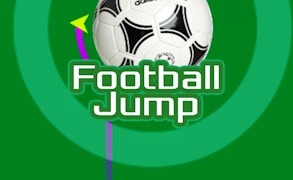 Football Jump
Description
In Football Jump, you embark on a thrilling arcade-style football adventure. The game pushes your skills to the limit with its fast-paced and exciting gameplay, where accuracy and timing are everything. Your task is to cleverly pass the ball between various footballs while navigating through intriguing levels. This challenging game is sure to put your soccer skills to the ultimate test.
How to play
To play Football Jump, all you need is sharp focus and quick reflexes. Click on the screen when the rotating arrow points in the direction of the next football. Be careful, if the arrow goes in a different direction, it's game over! The trick is to click just at the right moment when the arrow is aligned with the target football.
Tips and Tricks
Mastering Football Jump requires practice and patience. Always keep an eye on the direction of the rotating arrow and time your click perfectly. Don't rush - it's better to wait for a clear shot than to risk losing by clicking too early or late.
Features
Captivating arcade-style gameplay that keeps you hooked for hours.
A challenging test for your accuracy, timing, and football skills.
Intriguing levels with unique challenges and increasing difficulty.
Simplistic yet engaging graphics creating a perfect gaming ambiance.
What are the best online games?