Football Storm Strike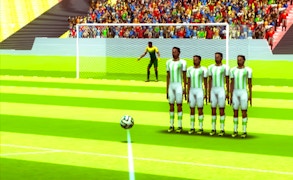 Football Storm Strike
Welcome to the adrenaline-fueled world of Football Storm Strike, a riveting game experience for all ball games, football games and soccer games enthusiasts. This engaging sports venture gives you a taste of the beautiful game like no other.
The remarkable depth and fluid mechanics of this game places it amongst the top-tier football games. It is more than just about scoring goals; it's about thinking on your feet, strategizing, and engineering that perfect, breathtaking moment of victory. You are not just a player in Football Storm Strike - you are the hero. The immersive universe of this game lets you live out the journey from being a rookie to becoming an unstoppable force in the football domain.
A standout feature is its impressive and responsive ball physics, making it one of the best ball games. Each kick, each strike so convincingly simulates the real-world dynamics that one can't help but appreciate its technical prowess. The ball reacts to every touch with sublime realism presenting an unrivaled level of immersive gaming experience.
Coming to playability, Football Storm Strike shines amongst other soccer games. The intuitive controls cater brilliantly to both novice and expert players. Complexity with approachability is a difficult balance to strike, yet it is managed effortlessly in this game.
If you yearn to experience the thrill of football on your digital screen, Football Storm Strike is your ticket to endless entertainment. Strap in, gear up, and prepare yourself for an unforgettable soccer spectacle with this game!
What are the best online games?