Football Jersey Memory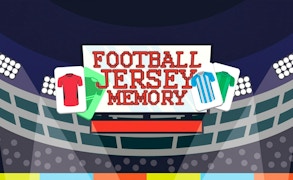 Football Jersey Memory
Immerse yourself in the world of football with the creatively crafted Football Jersey Memory, a standout within the ever-popular genre of memory games. This highly engaging, free online Games for Kids offers a delightful blend of football fandom and mental stimulation that keeps players coming back for more.
The gameplay is as simple as it is addictive. Tiles featuring various football jerseys are flipped over, and your mission is to pair them up. The sense of satisfaction you get when you uncover a matching jersey pair makes Football Jersey Memory one of the most satisfying puzzle games on the internet. But don't be fooled by its simplicity! This game will test your memory skills to their limit and keep you on your toes!
The real magic lies in its four progressively challenging levels. Each level demands increasing amounts of concentration, making it an excellent tool for honing those memory skills. This is where Football Jersey Memory stands head and shoulders above other soccer games.
The user-friendly interface allows for smooth navigation using just a mouse or tap on the screen, perfect for young hands and minds alike to jump right into the game. However, what really sets this game apart from other football games is its ability to cater not just to football enthusiasts but also to those seeking a fun way to challenge their mind.
In conclusion, Football Jersey Memory, with its seamless blend of sports and puzzles, offers an addictive mental workout masked as fun. So focus those peepers, flex that brain muscle and lace up for a kick-off into an unforgettable gaming experience! Whether you're a football fanatic or a puzzle game lover - or better yet, both - this game promises to make every moment worthwhile.
What are the best online games?