Foot Doctor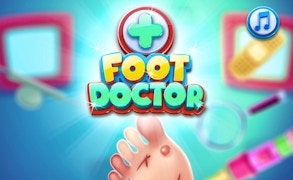 Foot Doctor
When it comes to innovative and exciting Games for Kids that are both entertaining and educational, Foot Doctor definitely stands its ground. This remarkable game ingeniously draws the line between fun and learning, making it an optimal choice for parents in search of Learning Games.
The first thing that will undeniably catch your attention about Foot Doctor is its amazing graphics. Full of vibrant colors, finely detailed character designs, and engaging environments, this game is truly a visual feast. The developers paid meticulous attention to detail, from the characters' expressions down to the medical tools used in operations. These immersive graphics are bound to keep your little ones thoroughly engaged.
The game is filled with diverse operation games, challenging children's problem-solving skills while subtly introducing them to the world of medicine. Yet, what sets Foot Doctor apart from other operation games is its ingenious way of making these operations fun rather than intimidating for young gamers.
In addition to its compelling gameplay mechanics, Foot Doctor also boasts an array of multiple character skins, further enhancing its appeal. Your child can choose from a multitude of visually pleasing characters that will make their gaming experience more personal and enjoyable.
In essence, Foot Doctor seamlessly intertwines entertainment with education, serving as a testament that indeed, not all screen time has to be unproductive for children. If you're on the lookout for engaging and enriching Games for Girls and boys alike, this gem should undeniably be on your radar.
Experience fun, learning, and medical adventures in one captivating package with Foot Doctor - where kids' games are given a new exciting twist!
What are the best online games?