Flying Pig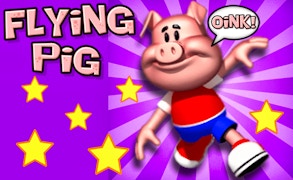 Flying Pig
Description
Embark on a delightful adventure in Flying Pig, an addictive arcade game that tests your dexterity and agility. The game transforms you into a fast-paced pig trying to catch as many falling food items as possible. But watch out! You have to avoid perilous bombs and mines, lest you lose lives. This light-hearted, entertaining game guarantees endless fun for the whole family!
How to play
The controls of Flying Pig are straightforward. You'll use your mouse or touchpad to move the pig across the screen, catching falling food items, and skillfully avoiding bombs and mines. The challenge escalates as your score increases, with more hazards appearing as your progress. Be alert - the game ends when you're out of lives.
Tips and Tricks
In Flying Pig, precision and anticipation are key. Keep your eyes on the upcoming objects, and try to predict their path for optimal movement. Don't focus too much on getting every food item – staying alive is more important. Always prioritize avoiding bombs and mines before aiming for high scores.
Features
A fun-filled arcade game perfect for both children and adults.
Smooth controls that allow easy navigation of your flying pig.
An escalating level of difficulty, maintaining a constant sense of thrill.
A captivating gameplay experience that tests your agility and precision.
What are the best online games?