Flying Man 3D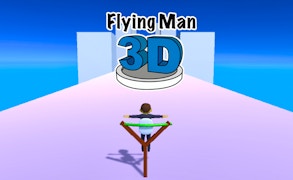 Flying Man 3D
Description
Prepare to soar through the sky with Flying Man 3D, an exhilarating arcade game that will get your heart racing. Become a fearless daredevil, navigating through challenging obstacles in a stunning 3D environment. The game offers a unique blend of speed, precision, and skills, where every level brings new challenges and adventures. The more you play, the more thrilling it gets!
How to Play
In Flying Man 3D, use your keyboard's arrow keys or your mouse to control the direction of your character's flight. The aim is to progress through each biome avoiding obstacles and collecting power-ups. Advance by completing each stage successfully and unlock new levels with increasing difficulty which demands great dexterity and quick reflexes.
Tips and Tricks
Mastering control is key in Flying Man 3D. Learn how to turn sharply around corners while maintaining speed for maximum efficiency. Remember, taking risks can reap high rewards! Utilize power-ups wisely as they can make a difference between victory or defeat in tight situations.
Features
An immersive 3D gaming experience with addicting arcade gameplay.
A variety of challenging levels with increasing difficulty.
Power-ups that provide useful abilities during gameplay.
Epic boss battles that test your skill and agility to the limit.
Unforgettable adrenaline rush moments of sheer thrill and excitement.
What are the best online games?
Tags