Flying Cars Era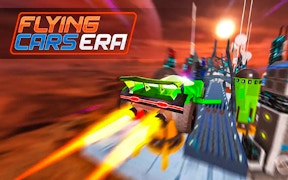 Flying Cars Era
Rev your engines, folks, because it's time to take to the skies with Flying Cars Era, an adrenaline-pumping title in the world of car games and simulator games that flips the script on traditional racer expectations.
From the moment players hit start in this new-age amalgamation of drifting games and flying games, they're thrust into an action-packed adventure featuring three riveting game modes. Whether you're a lone wolf who prefers the 1 player Free Drive mode, an ambitious competitor itching for a Challenge, or a daredevil ready to Race, Flying Cars Era has something for everyone.
This isn't just a driving game — it's a flying car game! Offering a fleet of five aerodynamic vehicles at your disposal, Flying Cars Era is not only revolutionizing the genre but also introducing fresh gameplay mechanics. Players will love the rush of soaring through virtual skies and executing daring drifts. Amid all this excitement, remember to collect those precious in-game diamonds to purchase three of these unrivaled flying cars.
The most engaging feature? The multi-player functionality! In true 2 player games' spirit, players can immerse themselves in cooperative races and challenges by inviting their friends into the game; enhancing the fun and competitive spirit. So buckle up for some high-octane excitement with a friend in this high-flying car game masterpiece.
Flying Cars Era is raising the bar for car games – it's much more than just keeping your foot on the gas pedal; it's about mastering control both on land and in the air. It's time you get behind the wheel (and wings!) to experience this exhilarating blend of driving games and flying games yourself!
What are the best online games?