Flying Bird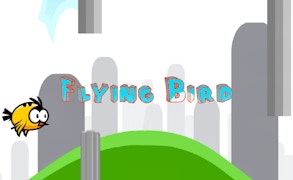 Flying Bird
Description
Delve into the delightful world of Flying Bird, where you command the blue yonder with striking skill and precision. This game gives players the thrill of soaring through hoops of differing heights while collecting points. The task is not as straightforward as it seems, obstacles abound and require quick reflexes to navigate. The challenge lies in striking a balance between maintaining altitude and dodging barriers. It's an intriguing test of dexterity and timing.
How to Play
To begin your flight, simply tap on the screen to make your bird ascend. Continuous tapping keeps the bird in flight. Be mindful that lack of speed will cause your bird to drop, whilst excessive speed could lead to a collision with obstacles. Therefore, pay attention to your bird's speed and adjust your taps accordingly. Gather points by flying through hoops and aim for a high score!
Tips and Tricks
Maintain a steady rhythm when tapping on the screen to ensure you have maximum control over your bird's movements. Practice navigating through hoops without hitting any obstacles - remember, perfect timing beats speed! And finally, don't be demotivated by initial failures; persistence is key in Flying Bird.
Features
Endless gameplay: continue flying for as long as you can dodge those perilous obstacles!
Precision control: tap controls that truly test how good your reflexes are.
Scoring system: collect points by flying through hoops - the more you pass through, the higher your score!
Addictive: a simple yet challenging game that will keep you coming back for more.
What are the best online games?