Flex Run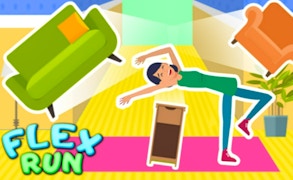 Flex Run
Welcome to the bustling world of Hyper Casual Games! Today, we're diving into one of the most intriguing, adrenaline-packed games on the market. Let's bend and stretch through our review of Flex Run.
In Flex Run, players are whisked into a hyper-entertaining, fast-paced environment where their flexibility is their key to victory. As you guide your agile gymnast through a minefield of domestic chaos, this enthralling gameplay rightfully earns its spot in the realm of Fun Games.
The game presents an innovative twist on conventional Gymnastics Games, transforming everyday home furniture into formidable obstacles. Gracefully glide over sofas or nimbly navigate around coffee tables - in Flex Run, your living room becomes your gymnastics arena!
The rewards system is beautifully designed. Each successful dodge doesn't just bring you closer to victory but also garners points. These invaluable points can be utilized wisely to customize your character, making the gaming experience personalized like never before.
Flex Run brilliantly marries reflex-testing gameplay with charming visuals for a truly immersive experience. The controls are intuitive; you'll be twisting and turning your character with finesse in no time!
If you are looking for an addictive hit of thrill and fun wrapped up in a hyper-casual game, then don't overlook Flex Run. Show off your flexibility and join the thrills — because in Flex Run, every obstacle dodged is a move towards victory!
Title: Flex Run - Perfect Blends of Fun & Flexibility in Gymnastics Games!
What are the best online games?