Flappy Jelly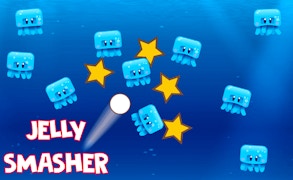 Flappy Jelly
Description
In Flappy Jelly, you become a daring deep-sea exploratory fish navigating underground regions filled with perilous obstacles. The primary aim of this thrilling game is to survive as long as possible, while also uncovering various underwater treasures. The underwater universe is diverse and enchanting, ensuring endless hours of captivating gameplay.
How to play
The controls are simple and intuitive; merely click or tap to swim upwards and release to swim downwards. Your goal is to skillfully maneuver through the path of obstacles without touching them. As you traverse further into the underwater world, the difficulty will increase, demanding better reaction times and precision.
Tips and Tricks
Master the timing - knowing when to click or tap to swim up or down is crucial in avoiding obstacles. Pay extra attention to the gaps, they might get narrower as you progress. Lastly, don't rush; staying calm and focused can significantly increase your high score potential.
Features
Innovative Gameplay: Simple yet challenging mechanics.
Vibrant Graphics: Enjoy the beautifully illustrated underwater universe.
World Leaderboards: Compete against players from all over the world for the high score.
Discoverable Treasures: Find hidden treasures for additional points.
What are the best online games?
Tags