Flappy Dragons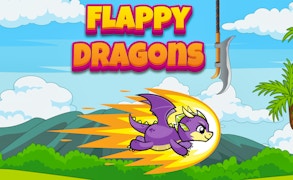 Flappy Dragons
Description
Embark on an exhilarating journey with Flappy Dragons, an engaging dragon-themed arcade game. As a valiant dragon, you must navigate through intricate levels, swerving to avoid various obstacles, all while collecting valuable coins. Stunning graphics and intuitive controls create an immersive experience that will captivate you for hours. Challenge your reflexes and timing skills as levels become progressively more difficult.
How to play
The game's controls are easy to understand but challenging to master. To make your dragon fly, simply tap the screen. The longer you press, the higher your dragon will soar. Time your taps carefully to dodge obstacles such as towering trees and rocks. Collecting coins strengthen your prowess and let you progress through levels.
Tips and Tricks
Finding it tough? Remember, timing is key when it comes to avoiding obstacles. Learn the patterns of each level for flawless execution. Practice patience, sometimes a slower pace can lead to better results. Lastly, make sure you collect every coin you come across; they could be crucial for your success.
Features
Addictive Gameplay: Intuitive controls and challenging levels keep the fun going.
Stunning Graphics: Beautiful visuals make Flappy Dragons a delight to play.
Variety of challenges: From towering trees to rocks, different obstacles test your skills.
Achievements: Special challenges add layers of excitement and motivation to keep playing.
What are the best online games?
Tags