Flappy Change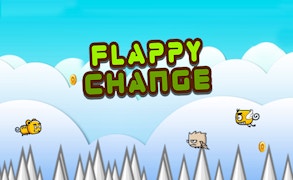 Flappy Change
Description
Flappy Change is an enthralling HTML5 arcade game that keeps you on the edge with its fast-paced gameplay. Play as a vibrant, animated bird flying through different obstacles while collecting coins. It's not just about flying, be prepared for unexpected challenges that require quick reactions and strategic planning.
How to play
To control the game, simply press and hold on the screen to make your character take flight. Avoid hazards that try to block your path and be sure to collect coins along the way for extra points. Your continuous flight will depend on how well you manage these two tasks - maneuvering around enemies and snatching up coins.
Tips and Tricks
Don't only focus on flying high; sometimes staying low can help avoid enemies. Mistiming your flight could lead you straight into an obstacle, so timing is crucial. Also, don't forget about the coins - they are not just there for extra point. They can unlock more exciting features in the game.
Features
User-friendly controls: Simple 'press and hold' mechanic makes it easy for anyone to play.
Vibrant graphics: Enjoy colorful characters and environments throughout your journey.
Diverse challenges: Each playthrough offers a unique experience with different obstacles.
Coin system: Collect coins during your flight to earn points or unlock special features.
What are the best online games?