Fitness Girl Dress Up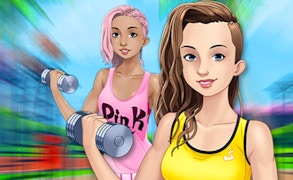 Fitness Girl Dress Up
Attention all fashion gurus, fitness fanatics and mini-stylists! The latest addition to the world of games for girls is here, and it's going to make your heart race faster than a cardio workout! Say hello to "Fitness Girls Dress Up", a trendy fusion of dress up games, Fashion Games and genuine girl power.
In this game, the gym is your runway, and you're the star. You'll be able to clothe your character in a myriad of stylish workout outfits as you test your fashion sense against the pressure of a ticking clock and rising heart rate. From chic yoga pants to sporty sneakers, fashionable headbands to functional sweatbands - the choice is all yours!
This brainchild of Hairdresser Games has gone out of its way to offer an inclusive and fun-filled space for every fitness girl out there. Not only does the game revolve around building a perfect workout look, but it also introduces elements of hairdressing. Plaits, ponytails or braids? It's time to choose your hairstyle du jour!
"Fitness Girl Dress Up" is more than just a game; it's an adventure that transports you into a world where athletic meets aesthetic. An enthralling combination of sports-themed dress up and beauty salon games, this game promises endless hours of creative playtime for budding designers or anyone who loves mixing and matching outfits.
In conclusion, if you're seeking an exciting new way to channel your creativity while exploring the realm of sports fashion then "Fitness Girl Dress Up" is certainly worth a shot. Whether you're obsessed with dress up games, hooked on Hairdresser Games, or simply love playing creative fashion games, this gym-inspired wardrobe wonder is guaranteed to pump up your gaming experience.
What are the best online games?