Fishing Online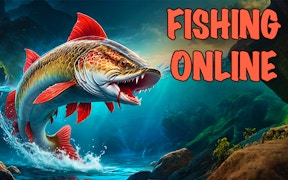 Fishing Online
Behold the ever-intriguing realm of Fishing Online, a mesmerizing refuge for all ardent lovers of puzzle, animal, and fishing games. This distinctive and addictive brain game unravels a captivating narrative where your primary task is to ensure the safety of a vulnerable fish by strategically pulling the correct pin.
In the riveting journey of Save the Fish, you'll encounter a mix of stimulating obstacles and sea creatures such as acid bombs, spikes, crabs, and octopuses. But fear not! Your ingenuity and razor-sharp thinking are all you require to navigate through these challenges. No two levels are the same in this animal game that is expertly designed to test your mental agility. The deceptive simplicity of early levels gradually unfolds into more difficult sequences requiring intuitive thinking and precision.
Fishing Online
is not just another run-of-the-mill entry in the universe of brain games. It rewards players' success by enabling them to collect stars, each level offering a maximum of three. The pursuit of these twinkling trophies forms a crucial part of the gameplay strategy as collecting stars unlocks a plethora of new intriguing characters. This adds an additional dimension to the gameplay narrative, making it even more exhilarating.
Immerse yourself in this aquatic world that transcends traditional fishing games by delivering an engaging blend of suspenseful puzzles and strategic gameplay. Embrace your role as savior in this fast-paced animal game which perfectly captures elements that die-hard puzzle enthusiasts crave - challenge and unpredictability.
Overall, Fishing Online's charming aquatic environment, satisfying brain teasers, and tantalizing rewards for strategic thinking make it a compelling addition to any gamer's collection.
What are the best online games?