Fish Rain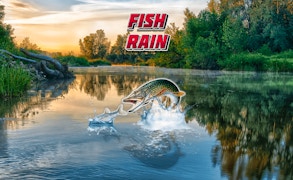 Fish Rain
Description
Dive into the exciting world of angling with Fish Rain. This full-scale fishing simulator exhibits unparalleled realism, allowing players to experience the thrill of fishing at genuine locations around the globe. The game offers a stunning array of fish species native to each location, adding an extra layer of authenticity. Skill, patience and strategy are key to mastering this immersive game.
How to play
To play Fish Rain, players cast their lines into the water, wait for a fish bite then pull back to reel in their catch. Different types of bait and fishing equipment can be used for different types of fish. You progress in the game by unlocking new locations and catching various species of fish. Remember, each fish behaves differently so adapt your strategy accordingly.
Tips and Tricks
Successful fishing in Fish Rain requires patience and observation. Pay attention to fish characteristics as it aids you in choosing suitable baits. Understanding weather conditions and time can also help with successful catches as some fish are more active during specific times.
Features
Realistic gameplay: Offers a true-to-life fishing experience.
Variety of locations: Fish at authentic locales around the world.
Vast species diversity: Catch an array of unique fish types pertinent to each location.
Evolving challenges: As you advance, the game consistently tests your angling skills with more elusive fish species.
What are the best online games?
Tags