Fish Rescue Go - Shark Attack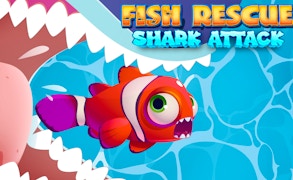 Fish Rescue Go - Shark Attack
Description
Dive into the deep blue sea with Fish Rescue Go - Shark Attack, an adventurous arcade game. The ocean is in peril as a dangerous shark lurks in the waters. Your mission? Save as many fish as you can from the menacing predator. With its fast-paced gameplay and exciting challenges, this game offers an unforgettable aquatic adventure. Can you outsmart the shark?
How to play
In Fish Rescue Go - Shark Attack, you operate an underwater drone to herd fish to safety while avoiding the shark. Navigate using your keyboard or touch controls on mobile devices. Your progress is measured by the number of fishes saved, each level gets progressively harder with more aggressive sharks and trickier terrains.
Tips and Tricks
Always keep an eye on the shark's movement patterns, it can help you anticipate its next move. Use your drone to create a barrier between the fish and the shark. And remember, timing is critical - saving fish too quickly could attract the attention of more sharks.
Features
Thrilling Arcade Game: Experience captivating underwater arcade action.
Progressive Difficulty: The game gets tougher with each level, challenging your skills.
Diverse Marine Life: Encounter a variety of marine creatures throughout your adventure.
User-friendly Controls: Play easily with intuitive touch or keyboard controls.
What are the best online games?
Tags