Fish Master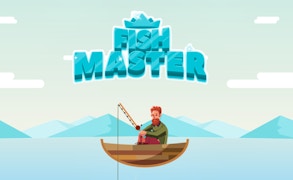 Fish Master
Description
Immerse yourself in the highly engaging Fish Master game! Set your sights on catching a wide variety of fish in this thrilling test of patience and skill. Let the beautifully designed graphics and realistic fishing experience transport you to serene waters. Turn up your competitive spirit as you strive to catch the biggest fish among them all.
How to play
Playing Fish Master is easy yet needs impeccable timing. Simply click or tap to cast your rod. Once the hook is underwater, wait for a fish to bite, then click or tap again to reel it in. With every successful catch, you progress further into the game by catching larger and rare fish species.
Tips and Tricks
In Fish Master, patience is key. Wait for bigger fish for higher scores rather than going for smaller ones constantly. Learn the fishing pattern of each species to enhance your catching skills. Lastly, monitor your resources and upgrade your equipment regularly for better catches.
Features
Stunningly drawn graphics that give a tranquil fishing experience.
A wide range of fish species in an expansive sea world.
An intuitive gameplay mechanism that tests player's timing and precision.
A rewarding progression system that presents new challenges with each level.
What are the best online games?
Tags