Fish Eat Fish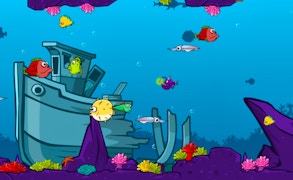 Fish Eat Fish
It's a rule of nature that larger animals will eat smaller ones and that's most true under the sea as seen in Fish Eat Fish. Welcome to the colorful and cartoon version of the ocean depths where you take control of an angler fish with an insatiable appetite. There's not much to do down there either than to swim around and eat things. This proves to be very necessary since you're sharing this part of the ocean with a lot of other large and hungry fish species. Through some skillful swimming, you need to show that you're the hungriest so that you can get to the top of the food chain.
About Fish Eat Fish
This type of game has been around for a while with simple controls and a simpler objective. It can be immensely satisfying and challenging just to see how big you can get. This brings the change that the amount of space you have becomes more limiting especially since you'll draw bigger fish to your location. The only reward you're aiming for is to get big enough so that nothing poses a threat and you can calmly eat anything in your way. It's a fish-eat-fish world out there and you're experiencing just how harsh it can be.
How to Play
Fish Eat Fish is a 2D arcade-style game that is played with the keyboard and the mouse. Of course, this is dependent on the number of players that you have locally. Player 1 uses the Arrow Keys to move around, Player 2 uses the WASD keys, and Player 3 uses the mouse. That being said, all you're doing is moving your anglerfish around in a contained part of the ocean depths. The goal is to eat as many fish as possible to become the biggest fish in the water.

In order to get bigger, you need to eat smaller fish. You start as the second smallest fish and can only eat the smallest fish. To eat other fish, you need to swim into them and this will allow you to slowly grow in size. The main threat is that other much larger fish will constantly be swimming back and forth across the screen. If you touch them, you'll be eliminated and will need to start all over as the second smallest fish again.
Tips and Tricks
This can be a wild and tense game as the sea starts to fill up with larger fish as you get larger. The best thing you can do is to stay away from the sides or risk instantly running into a bigger fish. There's also no harm in waiting to eat the bigger fish until you're sure that you can.

Game Details
Developer: Muscle-SS
Platforms: Web Browser (PC and mobile)
Languages: English

Gameplay Footage
FAQs
How do you win Fish Eat Fish?
When playing against other players, the one to eat the most fish and become the biggest by the end will win the game.

Games similar to Fish Eat Fish
With the type of gameplay and themes in this game, it fits into the Sharks and 2 Player Games categories on GamePix. There are also the titles Hungry Shark Arena, Shark io, Wrestle Jump, and Fly Car Stunt.
What are the best online games?