Find the Cheese Adventure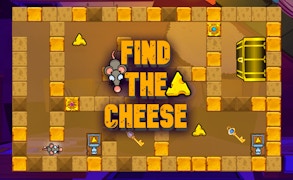 Find the Cheese Adventure
Description
In Find The Cheese Adventure, you are not just a mouse, but one on a thrilling journey. Your mission is to navigate through dangerous terrains full of mouse traps and discover the mouth-watering cheese. This game offers an engaging blend of puzzles and adventures, complemented by enchanting graphics. Each level requires strategy, presence of mind, and speed to overcome challenges.
How to play
Pull up your sleeves and get ready. Direct your mouse using the arrow keys. As you do this, you must avoid the perils that come your way, dodging mouse traps judiciously while collecting useful items as well. Complete each level by finding the cheese. Remember, strategy and speed are essential to progress in this game.
Tips and Tricks
Stay sharp and be on the lookout for both perilous traps and valuable items. Master controlling movement, ensuring swift turns when necessary to avoid capture. Remember that persistence pays off, don't despair if you fail a level; try again with a new strategy.
Features
Captivating graphics that keep you engaged through this cheesy adventure.
Multiple intricate levels each offering unique challenges and excitement.
An immersive gameplay experience which tests both your strategic thinking and action skills.
A fun and riveting storyline centered around the main character - the adventurous mouse!
What are the best online games?
Tags