Find the Amount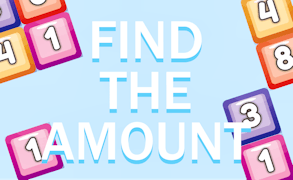 Find the Amount
Description
Immerse yourself in Find the Amount, a quiet contemplative game that combines leisure with mathematical challenges. The game puts you on a quest to find an exact sum from assorted blocks of numbers. It requires careful planning and keen observation, as you navigate the grid and calculate your path towards the preset target amount.
How to play
To play Find the Amount, simply click on the blocks you wish to select to reach your target sum. The selected blocks will then disappear, earning you points and bringing new blocks into play. Remember, strategy is crucial - planning your moves to maximize your score is key. Progress in difficulty and score as many points as possible!
Tips and Tricks
In Find the Amount, try to create larger sums whenever possible—this will help clear more blocks at once, allowing for higher scores. Also, consider future moves when choosing which blocks to add. This proactive strategy will ensure continuous gameplay without reaching an impasse.
Features
Addictive Gameplay: Engage in thrilling number adding puzzles that'll keep you hooked for hours.
Increasing Difficulty: As you progress, the game intensifies, pitting your nerves against your math skills.
Score Tracker: Keep track of your high scores and aim for personal bests with each playthrough.
Soothing Sounds: Enjoy exquisite audio that enhances the relaxing environment of the game.
What are the best online games?
Tags