Find Seven Differences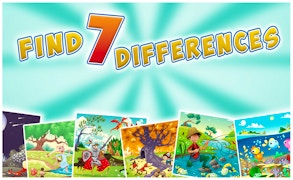 Find Seven Differences
Description
In Find Seven Differences, players are challenged to spot seven differences between two similar images. Each pair of images is filled with numerous objects, making the task of finding discrepancies far from easy. Players must use their observation skills to identify and mark the variances within the time limit, without any hints. An exciting and engaging way to test your visual acuity and attention to detail!
How to Play
The game is straightforward to play. Simply click on the areas in the pictures where you think a difference lies. A red check mark will appear on the spot clicked. You can click on either picture and have a specific time limit for each round, as indicated by the time scale between images.
Tips and Tricks
To excel in this game, you need to have a keen eye for detail. Don't just scan the image; instead, focus on parts of it one at a time. Ignore distractions like the time limit and concentrate solely on finding differences.
Features
Challenging gameplay that tests your observation skills.
A vast array of pictures with intricate details.
A timer that adds a sense of urgency and excitement.
The ability to replay levels for improving performance.
What are the best online games?
Tags