Find 10 errors - CHRISTMAS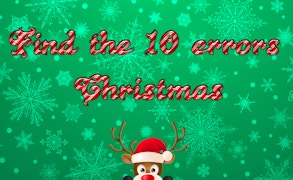 Find 10 errors - CHRISTMAS
Description
"Find 10 errors - CHRISTMAS" is a delightful memory puzzle game imbued with the joyous spirit of Christmas. Players must comb through festive images, identifying and rectifying 10 hidden errors within the time limit. With its captivating illustrations and Yuletide ambiance, this game harmoniously combines festive fun and cognitive challenge, making it perfect for children and adults alike.
How to play
The gameplay mechanics are straightforward: examine an image filled with holiday cheer and locate the 10 discrepancies hidden within. Use your mouse or touchscreen to click on the areas where you believe the errors lie. But be careful! The clock is ticking, and mistakes can cost you valuable seconds.
Tips and Tricks
To succeed in "Find 10 Errors - CHRISTMAS", a keen eye for detail is key. Look closely at every element in the picture, as even small changes can be an error. Remember, speed is crucial - the faster you find the errors, the higher your score will be.
Features
Festive theme: The game features delightful Christmas-themed graphics that create an enticing gaming atmosphere.
Timed challenge: A time constraint adds a thrilling element of haste to this memory game.
Different difficulties: With varying levels of difficulty, this game is suitable for both beginners and experts.
Suitable for all ages: Easy controls make this game accessible to players of all ages.
What are the best online games?