Fill In 3D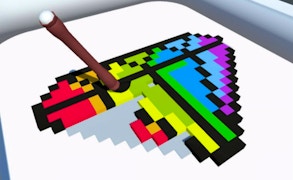 Fill In 3D
Welcome to this vividly colored world of Fill In 3D, a mesmerizing entry in the genre of puzzle games. This game perfectly blends elements from pixel games, drawing games, and coloring games to craft the ultimate gaming experience for puzzle enthusiasts.
Bright and energizing, Fill In 3D invites you into an enthralling universe where your creativity takes centre stage. Your task is simple yet captivating: dip your digital brush into a watercolor palette and bring to life intricate 3D images pixel by pixel. It's like painting a beautiful sunrise, one radiant hue at a time.
As an intriguing hybrid of pixel games, this masterpiece enables you to manipulate tiny blocks of color, reminiscent of the retro charm of old school gaming. Furthermore, Fill In 3D operates under a soothing pace that permits precision and mindfulness, characteristics intrinsic to the most immersive drawing games.
When it comes to coloring games, Fill In 3D takes it up a notch. With an array of vibrant colors at your disposal, you can turn bare outlines into stunning textures and patterns. Each completed picture offers not only the satisfaction of achievement but also a visually pleasing artwork that reflects your personal touch.
In conclusion, Fill In 3D offers an artful blend of pixel, drawing and coloring disciplines within its gameplay. Its enchanting graphics, easy-to-grasp mechanics, and calming pace make it an ideal choice for all puzzle game aficionados looking for something beyond traditional jigsaws or crosswords. Step into this beautiful realm loaded with colors and let your creativity run wild in Fill In 3D!
What are the best online games?