Fighter Manager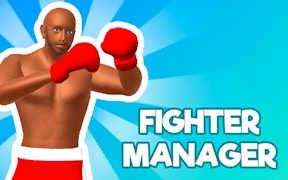 Fighter Manager
Immerse yourself in the high-stakes world of Fighter Manager, a thrilling blend of boxing games, management games, and innovative elements of running games. You're not just controlling these punches; you're commanding a brand, building a legacy, and reaping the rewards in this compelling entry in the realm of money games.
In the engrossing sphere of Fighter Manager, you are the glove-wearing puppet master behind a cascade of world-class fighters. The game's dynamic, action-packed fights are not just about brute strength - they're a testament to your strategic prowess and understanding of your fighters' capabilities. Compose a fight plan based on your rival's vulnerabilities and your own fighter's robust powers, adding an additional layer to the traditional arcade-style fighting.
This is not your ordinary run-of-the-mill boxing game; Fighter Manager uniquely harnesses elements from running games. Your attention doesn't end at throwing punches; you're running this show, managing resources, and teaming up with astute coaches to train your fighters. The ultimate aim? To triumph in major contests with your club.
Earn big in the exciting world of money games as you progress through Fighter Manager's intricate layers. Each victory brings not just fame, but also wealth, enabling you to recruit more champions-in-the-making and elevating your play experience.
The unique blend of genres makes Fighter Manager an extraordinary experience. Whether you're a fan of boxing games or gravitate more towards strategy-based management games - or perhaps cherish a fondness for both - consider stepping into this virtual ring for an exhilarating match-up that goes beyond common fighting titles.
A champion is waiting to be discovered in every gamer playing Fighter Manager. Are you ready to step into the ring?
What are the best online games?