Feet Skin Doctor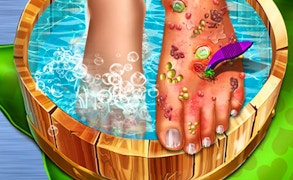 Feet Skin Doctor
Inviting all young, aspiring girls out there to dive into the thrilling world of Feet Skin Doctor, a unique offering in the realm of Games for Girls. Ranked highly among operation games, Feet Skin Doctor challenges your medical acumen and creativity both.
In this engaging game, you'll step into the shoes of a foot doctor and learn how to apply treatment effectively. The feet presented teem with germs and bacteria hiding under the skin, waiting for your skilled hands to cleanse them. The game offers plenty of fun medical tools - lasers to zap warts away, electric tazers to eliminate pesky rashes and infections, making each healed foot a small victory in itself.
The graphics are vibrant and appealing, pulling you into this world where every minor detail is important. And fret not if you're a beginner, because Feet Skin Doctor educates as much as it entertains. You'll soon find yourself identifying various ailments and understanding their corresponding treatments.
The fun doesn't end at the doctor's table though! After you've treated those adorable feet and made them healthy again, it's time to let your stylist side shine. The final stage allows you to choose a colorful pedicure for them, ranging from playful polka dots to classy french manicures. So not only do you rid those tiny feet of nasty germs but also ensure they leave your 'clinic' looking absolutely fabulous!
If you're on the lookout for games for girls, especially fond of operation games, then Feet Skin Doctor is an absolute must-try. It's more than just a game; it's an experience which makes learning fun and interactive!
What are the best online games?