Feed the Oomee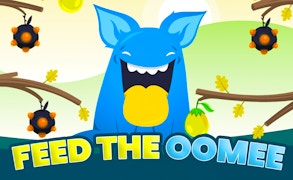 Feed the Oomee
Description
In Feed the Oomee, players are tasked with keeping a cute little monster, Oomee, satisfied by feeding him delicious fruit. This game demands your speed and attentiveness as the fruits keep dropping from above and your job is to guide Oomee to eat them before they hit the ground. A great game for kids with adorable graphics and pleasing colors.
How to play
The primary control of this game is your mouse or touchpad. Drag Oomee under the falling fruit using your cursor so he can consume it. The more you feed Oomee, the more points you'll score. Be quick! If too many fruits drop without being eaten, you'll lose!
Tips and Tricks
Besides being fast, focus on the rhythm of fruit fall - it tends to follow a pattern. Predicting where and when the next fruit will drop allows you to position Oomee in advance. Keep an eye out for special fruits, they hold higher points!
Features
User-friendly controls: Easy-to-operate even for kids.
Satisfying mechanics: Smooth gameplay with pleasant aesthetics.
Rhythm-based patterns: Predictable fruit fall pattern adds a layer of strategy.
Cute characters: Adorable monster - Oomee, sure to be loved by kids.
What are the best online games?