Fashion Box Glam Diva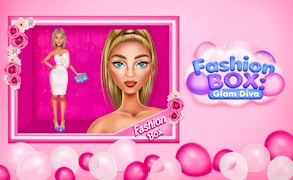 Fashion Box Glam Diva
Immerse yourself in the enchanting world of fashion with our captivating game, Fashion Box Glam Diva. As a blend of all your favorite fun elements from games-for-girls, fashion-games, makeup-games, and dress-up-games, this game creates an unforgettable interactive experience for your little divas who dream to dabble in haute couture.
You get to guide one of the first influencers, Bonnie, on her exciting journey into a new trend - the life in plastic fashion challenge. The thrill is akin to holding the reins of a style chariot navigating through uncharted territories of exotic trends! With your help, Bonnie can achieve the coveted glam diva look that would set tongues wagging and cameras flashing.
The glamour and glitter of the world blaze through every pixel of this game. Just like a skilled painter uses his palette, you'll use fashionable clothing and accessories to create a masterpiece out of Bonnie. The myriad choices for outfits and accessories are like vibrant hues on a painter's palette - from flashy headbands and sparkly earrings to ritzy dresses and glamorous heels - everything you need to create a stunning look is at your fingertips.
Fashion Box Glam Diva is not just about dolling up a character—it's an educational journey into the world of fashion. As you mix and match accessories with different outfits, you gather insights into what works together and what doesn't; knowledge that could translate into real-world style sense! Revealing an entirely unique way for your young ones to explore their creativity while they learn more about fashion trends.
In summary, Fashion Box Glam Diva is not just another dress-up game; it's an exciting venture into the dazzling domain of style. Whether you're picking out outfits for Bonnie or experimenting with unique makeup styles, the fashion adventure never stops. It's high time to let your little fashion-forward divas step into the spotlight and steal the show!
What are the best online games?