Farmers.io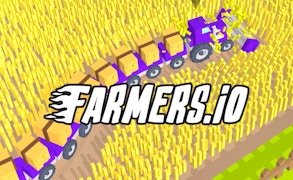 Farmers.io
For gamers who revel in the thrill of snake games, cherish the peaceful simplicity of farm games, or seek the adrenaline rush of truck games, l have discovered an .io game that masterfully blends all these elements into an addictive online multiplayer - Farmers.io.
Immerse yourself into the captivating world of Farmers.io, where you are not just another farmer, but a smart strategist steering heavy-duty trucks. The allure? Your conquests and losses do not take place on familiar race tracks, but sprawling farm fields awash with golden harvest.
The premise of Farmers.io is straightforward yet engrossing. As a player, you face off against opponents worldwide and your mission is no small chore - defeat them all and clinch that coveted first-place. The competition is fierce, the stakes high, and only the best will emerge victorious.
The game teases you with a fleet of sleek, cool cars to unlock. Each win inches you closer to unlocking these coveted beasts. So put on your strategy hat, channel your inner speed demon and clock win after win to nab them!
The real charm lies in its progression system. The thrill isn't just about getting stronger; it's about evolving from a humble tractor to awe-inspiring juggernauts as you rack up wins and climb uphill in this wild race.
In summary, Farmers.io is a highly engaging blend of farm games, truck games, and snake games that keeps you coming back for more. It traverses boundaries to deliver an absorbing gaming experience that's both competitive and rewarding. Be it the smart strategizing or exhilarating races - there's more than one reason why Farmers.io will keep you hooked! Unleash your competitive spirit in this thrilling .io game; outmaneuver your opponents and claim big victories because in the world of Farmers.io - every victory counts!
What are the best online games?