Farmer Tractor Cargo Simulator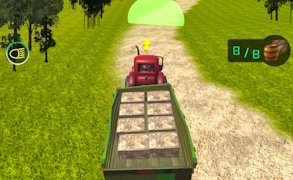 Farmer Tractor Cargo Simulator
If you're on the hunt for some high-octane fun in the truck games and driving games genre, then buckle up, because the hair-raising world of Farmer Tractor Cargo Simulator is a wild ride that you wouldn't want to miss.
This isn't your typical racing game; it's a heart-stopping, palm-sweating plunge into the thrilling world of farm games. Heralded as one of 2017's most popular tractor cargo simulator games, Farmer Tractor Cargo Simulator promisingly delivers a truckload more than what meets the eye.
The game skillfully combines elements from various sub-genres such as skill games and simulator games, serving up a delightful platter of diversity to satisfy gamers' appetite. In this game, your role is no less than an off-road cargo transporter truck driver. You'll find yourself seated behind the wheel of a modern transporter off-road cargo truck loaded with goods and crops. Your mission? To maneuver this heavy behemoth through muddy farms and deliver goods to their destinations.
A standout feature in Farmer Tractor Cargo Simulator is its heavy emphasis on realistic driving physics. Delightfully challenging, it will test your tractor-driving skills like never before! But remember, with great power comes great responsibility. The aim isn't just to simply reach the finish line but to do so while ensuring none of your precious cargo gets lost en route.
In conclusion, Farmer Tractor Cargo Simulator brilliantly blends intrigue and challenge in one package. With its immersive gameplay mechanics and compelling simulation aspects, it's clear why it stands tall as one of the best offerings in the driving simulation genre. So if you're ready for some serious tractor-driving action, gear up and dive headfirst into this adrenaline-fueled world!
What are the best online games?